---
Client Experiences
---

"I had been putting off getting my driver's license for a good 10 years, due to a combination of personal circumstances and anxiety. When I was finally ready to take the plunge, Tom got me ready for the road in just a week! Everyone who has watched my progress is amazed by the leaps and bounds I made after attending Strategic. Very professional, very effective, very relaxed. 10/10; I would recommend highly." — Kay
---
"Tom is a very professional instructor. I've been suffering from a lot of anxiety while driving, and he has helped me with overcoming my fears. His safe driving techniques help me feel safe on the road. I would recommend him to anyone who would like to improve their driving skills and be prepared for any situation!!! Thanks Tom!!!" — Pratyusha
---
"Tom is the best instructor ever! He is such a nice and professional person, and driving with him is driving with 100% of self confidence and safety!" — Michelle

---
Strategic's proven training program includes:
Hazard Perception and Response
Safe Driving Decisions and Choices
Traffic and Intersection Awareness
Planning and Risk Management
Pro-Active, Collision-Free Techniques

Programs and Services
Click on titles to expand descriptions
---
Adult Driving Instruction
Tired of asking friends and relatives for rides? Annoyed at having to wait for public transportation? Frustrated with your lack of independence?

Perhaps you've tried to learn to drive in the past, but have found that your friends and relatives aren't as patient as you would like, or that no one really has the time to teach you the right way.

If you'd like to become a safe and confident driver, Strategic can help. We'll show you how learning to drive can be easy and enjoyable. Our patient and professional instructors will help you develop your knowledge and skills to that you can become a confident and collision-free driver for life.

---
International Driving Instruction
Moving to Colorado from another country can bring a wide range of challenges. Becoming comfortable with English and adjusting to a different culture are just two potential challenges. Another can be transportation. How do you plan to get around in Metro Denver?

Having your Colorado Driver's License allows you to go exactly where you want … anytime you want. Our goal is to help you become familiar with the driving culture, rules, and regulations of driving in Colorado so you can be a safe driver.

Whether you're in Colorado temporarily—like for school, a work assignment, or as an au pair—or have just moved here permanently, we can assist you in understanding the driving laws and driving culture in our state. You want to be safe, and we want to show you how to do that, while also preparing you for your Colorado Driver's License Exam.

We are here to assist you with:
Understanding Colorado driving laws
Improving driving abilities and skills
Building confidence
Developing safe driving habits
Preparing for your Driver's Exam
Strategic Driving School has been instructing International Clients for more than 35 years. We are here to assist you through the process of learning to drive, gaining confidence, and obtaining your license.
---
Complete Teen Programs
Finally being able to obtain a driver's license is one of the most exciting times in a teen's life! But while it creates a sense of freedom, it also brings with it a great amount of responsibility. In fact, driving is the single most risky activity your son or daughter will be involved in during their lifetime.

Unfortunately, 38% of new drivers are involved in collisions in their first year of driving. By their third year, 89% have had a crash.

Most teen crashes—like most adult crashes—are caused by driving mistakes and distractions. New drivers are just not experienced enough in recognizing and responding to developing hazards.

At Strategic, we help teens develop the best driving behaviors, strategies, and techniques possible—skills they can use for a lifetime with the goal of remaining a collision-free driver for life.

Classroom Location: 2432 South Downing, Denver, CO 80206 (map)

---
Fear of Driving Therapy
Signs of driving anxiety:
Avoiding driving altogether
Fear of being in a collision
Getting anxious just thinking about driving
Feeling like you are not in control
If you suffer from driving anxiety, our Driving Therapy program can help you get back on the road with confidence. Through this program, you will discover how to rebuild your driving confidence, whether you have a fear of driving in traffic, driving on the freeway, or simply getting behind the wheel.

You can learn to drive safely and confidently. You no longer need to feel like you are in jail. Driving therapy will help you gain the confidence to drive anywhere you want—and the freedom that naturally comes with it.

---
Driving Tests
Are you ready to take your driving test? Whether you've participated in one of our programs or have trained elsewhere, Strategic is certified by the Colorado DMV to administer the official driving test.
No waiting in long lines at the DMV!
Tests available within 24 hours.
Use your vehicle for the test or we can provide one for you.
Convenient appointment times that work with your schedule.
Friendly and comfortable environment.
Test Fee: $60
Note: The test fee is for one test. If another test is needed, there will be an additional fee.

Test Location: 2432 South Downing, Denver, CO 80210 (map)

About Strategic Driving School
Drive Collision-Free for Life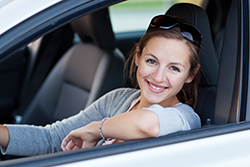 It's a somber fact: More than 90% of collisions are caused by driver error, often due to distractions. Driving is the single most risky activity we are involved in on a daily basis—every time we drive, we are at risk of being involved in a collision.
Average drivers tend to:
make driving mistakes
make poor or late decisions
not recognize or respond well to hazards
become easily distracted
Common mistakes are running red lights, backing in parking lots, and opening doors without looking – all of which can lead to collisions.

At Strategic Driving School, our goal is to give you the best possible driving knowledge, skills, and strategies so you can become a collision-free driver—and remain one for the rest of your life.

That's our main goal; to help our clients avoid being in collisions. We not only have more than 35 years of experience, but our teaching staff is the most highly trained in the industry. We teach you the skills and abilities needed to be a safe, proactive driver. We do this in a relaxed, comfortable, and safe learning environment, with one-on-one instruction from our patient and professional instructors.

We offer lessons that work with your schedule—during the day, in the evening, or on weekends. We'll meet you at your home, work, or school.

At Strategic Driving School, we make learning to drive easy and enjoyable… just the way it should be.